i grew up in a home where we never had cable tv, but i knew how to operate a record player at the age of five, mostly to play disney records and chipmunks records, and secondhand classical music. my sister and i used to rollerskate around the basement to "beethoven's greatest hits" played scratchily on one of those fisher-price children's record players where the arm was made of plastic and the needle was probably dull beyond belief. i never realized how crappy it sounded until i took it with me to college and realized that the MC5 does not sound good on no-fi equipment.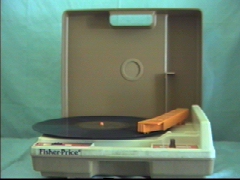 it's not that i hated tv, but music was way more interesting, and i absorbed a lot of music, between my dad's record collection, his friends that he played guitar with, and the sounds coming out of the radio when we'd be going somewhere, which probably explains a whole lot about the way i turned out, and why i like almost anything that takes its cues from neil young and crazy horse.
anyways, this is one of those overlooked gems that would always be on WKSU and that stuck with me enough that when i tracked down an mp3 of this track, it made it onto everyone's mix cd for a year. i'm not familiar with all of john gorka's output, having heard mostly his first three albums, but he's still putting out records and touring, so good for him. but this song resonates somehow, and makes me smile.
john gorka - i'm from new jersey
it seems like it'd be a good soundtrack song for a new jersey-set film that isn't garden state.
"i'm from new jersey, it's like ohio, but even more so, imagine that..."